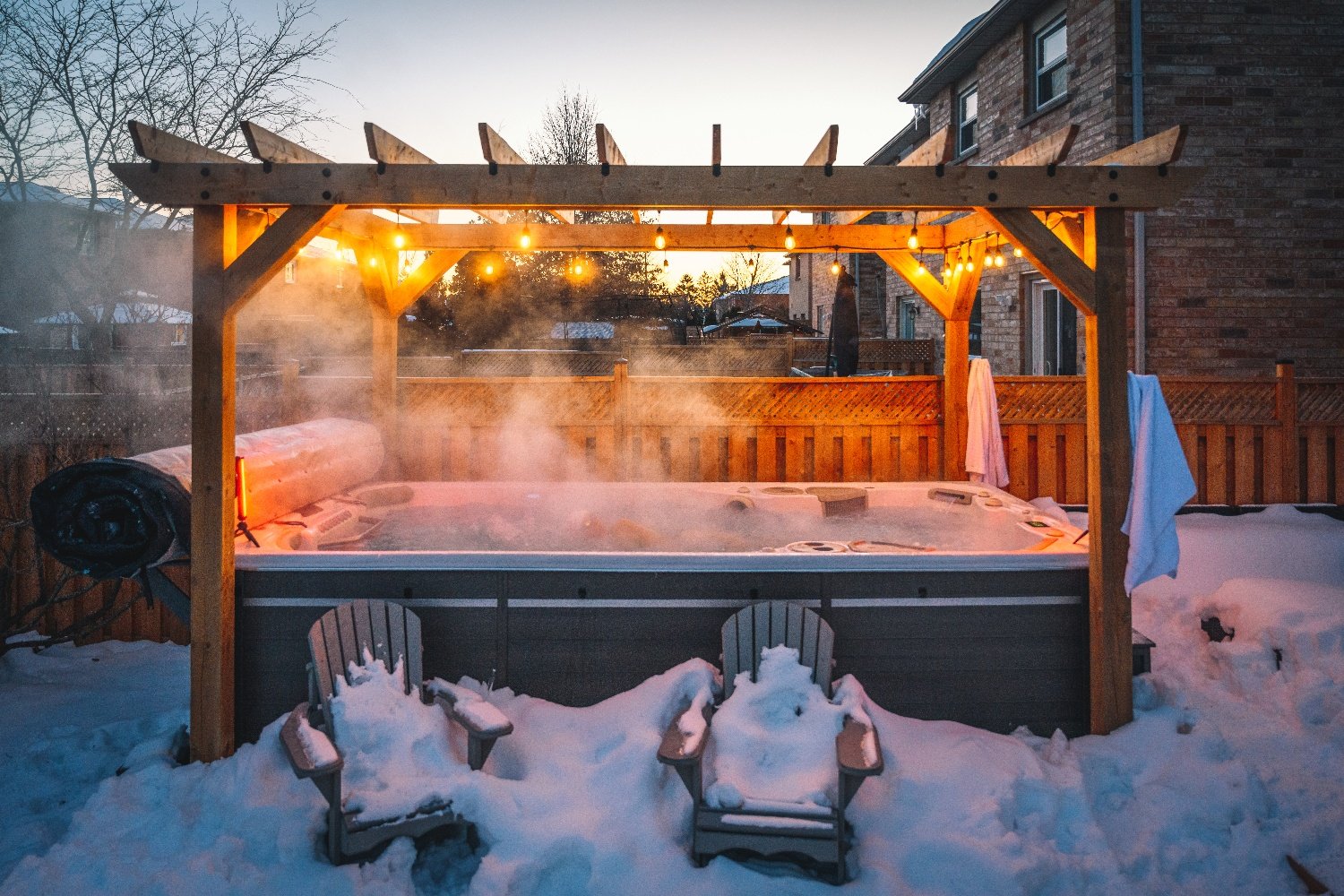 Using Your Hot Tub in Winter: Complete Guide
Winter is fast approaching, and with the changing of the seasons comes a decision that all hot tub owners must make - should I leave my hot tub on or off during winter?
The answer to this question depends on your preference. For some people, a hot tub is a seasonal luxury - either something to be enjoyed during the summer with a cold drink in hand, or a way of warming up and relaxing during the cold winter months. Depending on whether you keep your hot tub on or off during winter, there are a number of specific steps you must take in order to properly prepare your hot tub.
In this blog post, Hydropool Midlands have created this complete guide to preparing your hot tub for winter.
Should I Leave My Hot Tub On In Winter?
General advice for hot tub owners says you should keep your hot tub running at all times for maximum efficiency, however, it is important to remember that lower external temperatures during winter will mean your hot tub needs to work harder to maintain a stable temperature inside; which is likely to increase your energy bills. In this instance, it is often better to maintain a lower hot tub temperature than usual to counteract a potential rise in energy bills.
If you are planning on using your hot tub regularly during winter, then you have likely already considered these factors. We have provided an easy step-by-step guide for preparing to run your hot tub during winter below.
For those planning on shutting down their hot tub during the winter, there are specific steps you must take to ensure your hot tub does not sustain damage over time. It is often the case that hot tubs are not correctly drained in preparation for winter, meaning that leftover water in the system is likely to freeze and cause damage that will go unnoticed until much later.
If you plan to shut down your hot tub for winter, then we have also provided a step-by-step guide to winterising your hot tub below.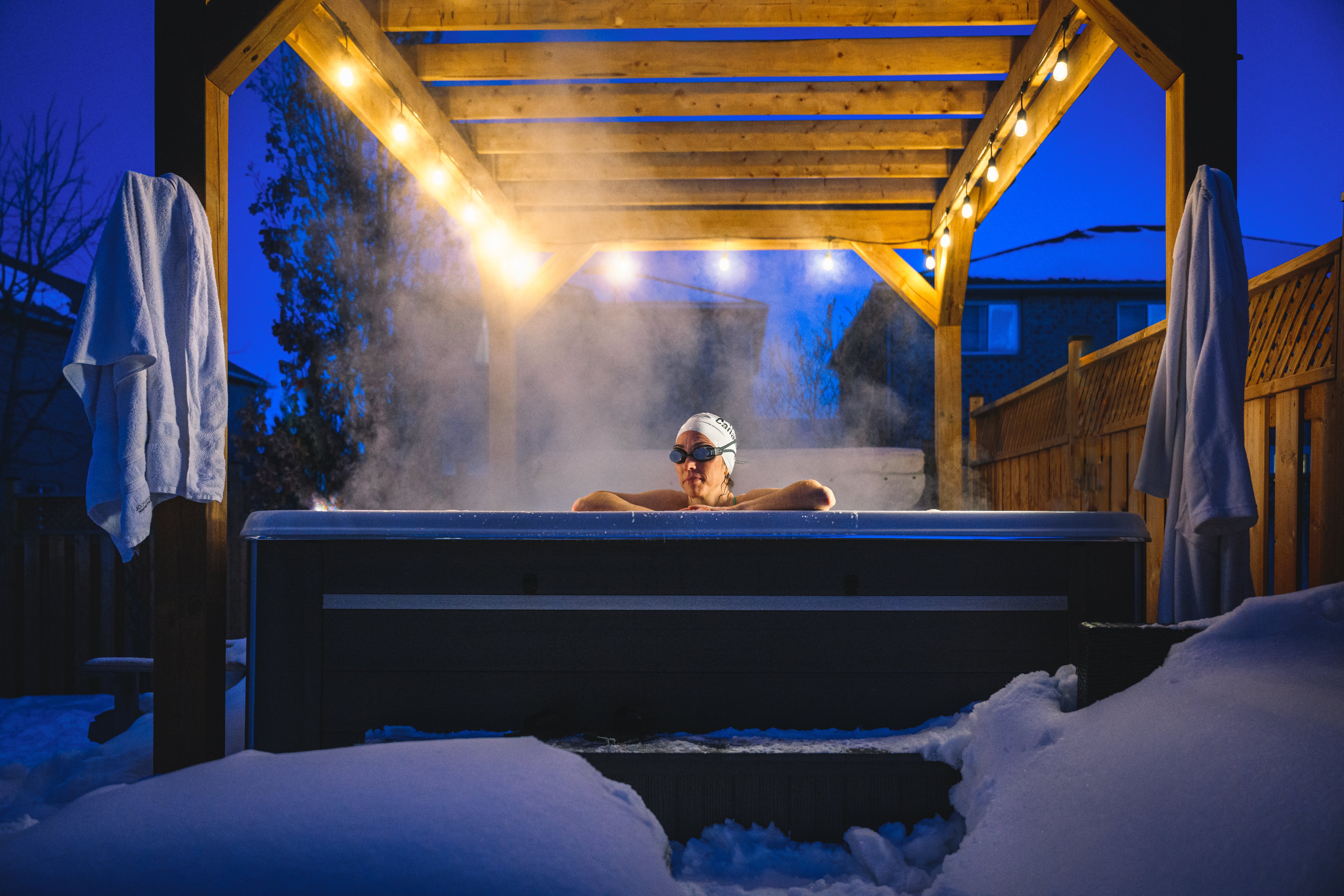 Preparing to Use a Hot Tub During Winter
For users that enjoy a relaxing dip in their hot tub during winter, you will need to ensure your hot tub is properly prepared for maximum thermal efficiency in order to reduce your energy bills. This will also help with the overall maintenance and care of your hot tub.
1. Change the Hot Tub Water
In preparation for the colder months, you can protect your hot tub from damage from freezing temperatures by fully draining it and performing a thorough deep clean of the hot tub's systems to ensure all pipes and jets are free of blockages.
2. Purchase a Hot Tub Winter Cover
Most hot tub heat loss occurs when heat escapes from the surface of the water. You can help mitigate heat loss by ensuring that you purchase a new winter cover for your hot tub, or alternatively, thoroughly checking your existing cover to make sure there are no holes, and that your cover still neatly fits your hot tub and does not come up at the corners.
If your cover does not properly fit your hot tub, or features wear and tear, then it is likely to suffer heat loss. This will naturally increase your monthly bills, as the hot tub must work harder to maintain a stable temperature.
3. Purchase a Floating Thermal Blanket (Optional)
A thermal blanket floats on top of the water in your hot tub, and provides additional thermal efficiency when combined with a hot tub cover by stopping hot from rising. However, if you plan on purchasing a floating cover, you should ensure that it is of a high quality as low-quality floating hot tub covers can deteriorate over time, which may in turn clog your filtration systems with debris.
4. Check the Hot Tub Water Level
If you have not used your hot tub in a while, then your water level may have drastically reduced over time. This can cause your pump or heater to shut down when the water level is too low, which can result in the water in your hot tub to freeze and damage the internal systems.
By following these steps you can properly prepare your hot tub for use in winter and avoid unnecessary maintenance in the future.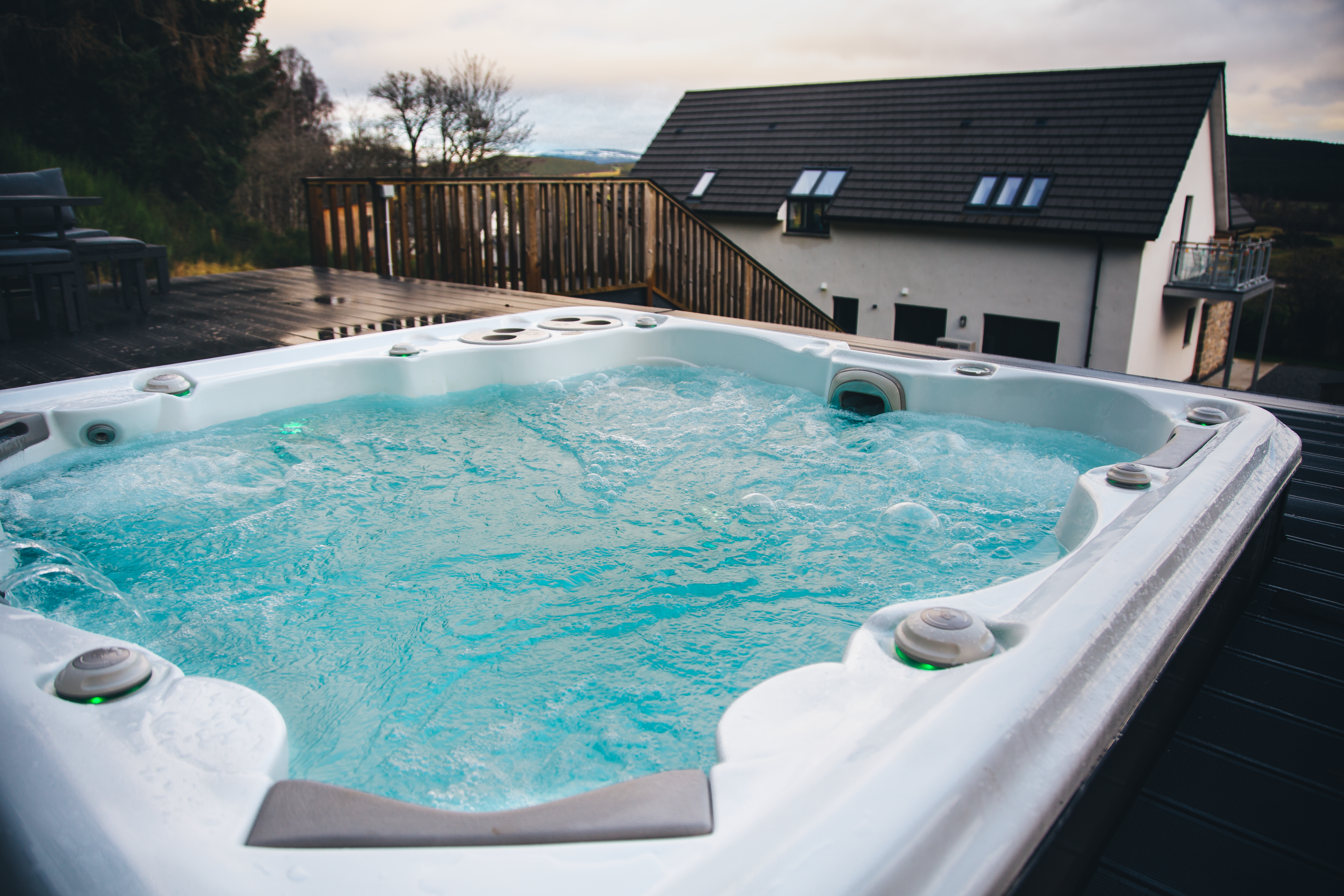 How to Winterise a Hot Tub: Emptying a Hot Tub for Winter
If you do not plan on using your hot tub during winter, it is important to make sure you follow the necessary steps to empty your hot tub and avoid unnecessary damage caused by freezing temperatures that can occur when there is still water present in your hot tub.
Emptying a hot tub for winter will ensure it will be ready to use again in the warmer months, without requiring maintenance or damage repairs.
1. Flush and Drain Your Hot Tub
The first step to winterise your hot tub is to completely drain all water from the systems. Your hot tub manual should provide guidance on how to fully empty the water.
2. Use an Air Blower
Most hot tubs will feature an air blower function. You can drain the air blower by shutting off the heating system and running the air blower for a minimum of 30 minutes to fully eject all water. Running the air blower for the correct amount of time should also allow the system to dry any excess moisture.
3. Replace Hot Tub Filters
Once the first 2 steps have been completed, you should now remove your hot tub filter.
This will give you a good opportunity to inspect your hot tub filter and decide whether it requires cleaning or replacement. If your filter does not need to be replaced, then you can simply clean and dry it ready for use again in the warmer months.
4. Loosen Fittings
It is important to loosen all fittings on your hot tub to ensure now excess moisture exists within any connecting pipework. Loosening these fittings will allow moisture to drain and avoid freezing or developing mould and bacteria while the hot tub is not in use.
5. Clear Your Hot Tub Jets
You can use either a wet vacuum or a traditional blow dryer to clear out any water from your hot tub jets.
6. Deep Clean
Once all steps have been completed, it's time for the deep clean! Properly cleaning a drained hot tub will ensure no bacteria or mould gathers over the winter, which may make your first dip in the summer months quite unpleasant. You can use any standard home cleaning or antibacterial spray and a cloth to perform the deep clean.